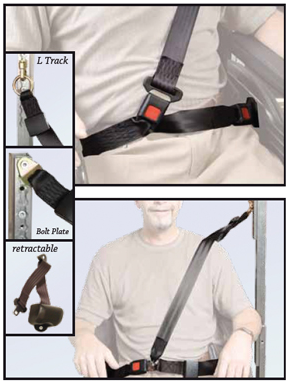 OCCUPANT RESTRAINTS
Shoulder Belts for lap belt with button
Compatible shoulder belts.
BELTS
PART NUMBER
Attaches to wall with L-track fitting
2" X 48" fully extended.
SH5826-LT-CL
Attaches to wall with bolt plate
Hole is 7/16". 2" X 16" fully extended.
SH4827-BP-CL
Attaches to wall with retractable belt fitting.
Includes special L bracket.
SH4827-RE-CL
Manufactured in compliance with FMVSS 209, 302 & SAE J22449.
IMPORTANT NOTE: Shoulder belts should be installed by a qualified technician Contact Safe Haven at 1-800-421-8700 for a list of qualified installers in your area.